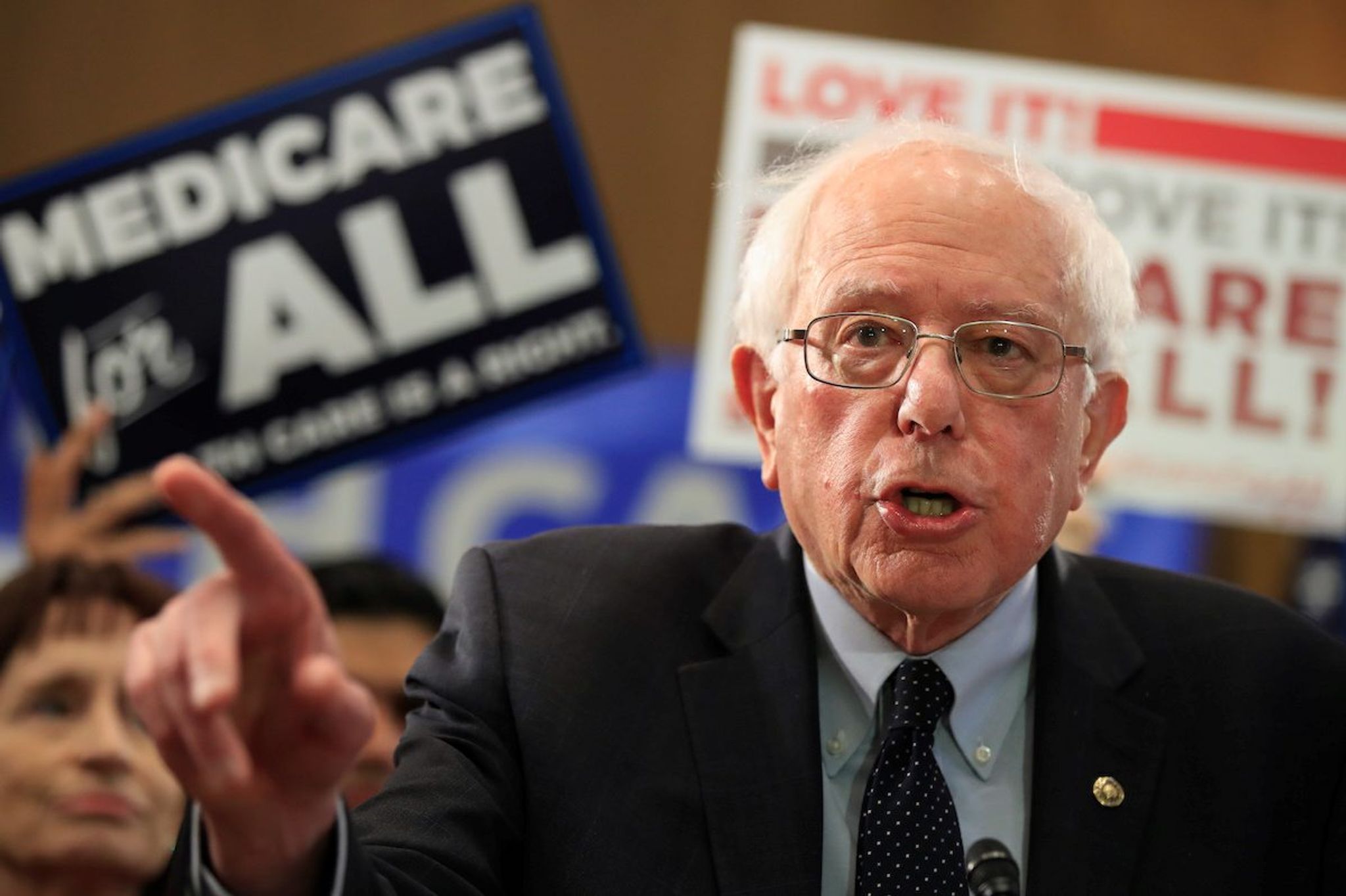 Feel the Bern? It's a stark reality: Sooner or later, somebody has to pay for universal health care. Sen. Bernard Sanders must face this reality now that he has introduced the Medicare for All Act of 2019 — which is certainly guaranteed to be a big applause point on the presidential campaign trail. But the money has to come from somewhere. That's the inconvenient truth.
The Democratic socialist from Vermont has a few ideas.
"Rather than including financing mechanisms in the legislation, Sanders released a set of tax hike 'options' that would be paired with the proposal. These tax hikes would hit American families at every income level and businesses large and small. The proposal increases taxes by $16.2 trillion over the next decade. This would pay for roughly half of the cost of single payer healthcare, which costs between $32 trillion and $36 trillion according to estimates," explains a cost evaluation released by Americans for Tax Reform, an advocacy group.
The tax hikes include a 4% employee payroll tax, a 7% employer payroll tax, the elimination of health tax "expenditures," plus a proposal which would ban employer-provided insurance and repeal the deduction for health care — increasing taxes on businesses by $3 trillion over a decade, the organization said.
Mr. Sanders' proposal also would repeal health savings accounts, the deduction for cafeteria plans and the medical expense deductions. Then there's the 70% top tax bracket for ordinary income and capital gains income — burdening the U.S. with the highest income tax rate on the planet.
But wait, the tax reform folks have more.
Mr. Sanders' "Medicare for All" plan also includes a 77% death tax, a 1% wealth tax, plus taxes on financial institutions totaling $800 billion in the next decade, and a bulked up self-employment tax which ups increase taxes by $247 billion over 10 years.
DAYS OF YORE
"There's a lot of evidence that you can sell people on tax increases if they think it's an investment."
— Then-Arkansas Gov. Bill Clinton, to Newsweek on Aug. 1, 1988.
"The question is not taxes or no taxes. The question is who is going to pay the taxes."
— Then-newly elected Rep. Bernard Sanders, to ABC's "Nightline" on Nov. 7, 1990.
JEH JOHNSON AGREES IT'S A CRISIS
The U.S. Border Patrol has made it perfectly clear: There is an escalating "crisis" on the border between the U.S. and Mexico, as immigrant caravans continue their journey and some 4,000 people a day seeking entry.
A leading Obama-era official agrees.
"Having owned this problem for three years, I know what 1,000 a day looks like. I saw it myself at Border Patrol holding stations. I cannot begin to imagine what 4,000 a day looks like. It must overwhelm the system," former Homeland Security Secretary Jeh Johnson told Fox News.
"I think we have to get away from Democrat vs. Republican and 'crisis' vs. 'no crisis.' This is a crisis by any measure," he said.
"Four thousand arrests in a day, 100,000 in a month — that's the population of the city of Albany, New York, that suddenly shows up on our southern border in one month," continued Mr. Johnson, who was Homeland chief from 2013-17.
"My advice to the president, to Congress: 'This is the kind of thing that American people look towards their leaders to fix. The fix is bipartisan. It must be bipartisan,'" Mr. Johnson advised. "It is times like this that the public should tell their leaders to come together and fix this."
'LET'S POWER ON'
Acting Homeland Security Secretary Kevin K. McAleenan sent an inaugural message to his agency upon his arrival this week. Here's what he said:
"While we face many challenges, including a growing crisis on our southern border, I know that, working together, we can overcome them. I've also learned that the true strength of DHS is our people, and during my time as acting secretary, I pledge to be an aggressive advocate for you. I look forward to working alongside you to accomplish the vast mission of securing our homeland with honor, integrity and vigilance. Let's power on. The American people are counting on us."
PARTY LIKE IT'S TANSTAAFL
The Libertarian Party has spent weeks voting on the official theme of its 2020 presidential convention, winnowing 58 different ideas submitted by party members to just one.
"Our 2020 Libertarian National Convention theme: TANSTAAFL," reports Daniel Hayes, chairman of the party's convention oversight committee.
"TANSTAAFL is the acronym for 'There Ain't No Such Thing As A Free Lunch,' popularized by Robert Heinlein and Milton Friedman. It was the official theme of the Libertarian Party for its first eight years. Nothing — be it a lunch, a road, or a wall — is ever free, especially when government is involved. There are always obvious and hidden costs for everyone, including the recipients," he notes.
"This theme is just as relevant now as it was 50 years ago. Governments continue to promise 'free stuff' at the expense of your liberty," Mr. Hayes declared.
WEEKEND REAL ESTATE
For sale: Victorian center hall farmhouse built in 1900 on 20 acres near Gaylordsville, Connecticut. Four bedrooms, three baths, three fire places, original floors, pocket doors, woodwork. Formal dining and living rooms, chef's kitchen, office, two staircases; 3,440 square feet. Includes rocking chair porch, veranda, brick patio, in-ground pool, post-and-beam carriage house with cupola and 1,000-square-foot apartment, garage, mountain views, meadows, historic trees, stone walls, barn, corn crib.
Priced at $600,000 through 64GaylordRd.com.
POLL DU JOUR
• 57% of Americans disapprove of the job Congress is doing; 63% of Republicans, 56% of independents and 53% of Democrats agree.
• 41% say Congress has accomplished "less than usual" so far in its two-year term; 40% of Republicans, 38% of independents and 46% of Democrats agree.
• 25% say Congress has accomplished "about the same" amount as in previous terms; 33% of Republicans, 19% of independents and 26% of Democrats agree.
• 25% are not sure how much Congress has accomplished so far in its two-year term; 15% of Republicans, 36% of independents and 20% of Democrats agree.
• 20% say Congress has accomplished "more than usual" so far; 12% of Republicans, 7% of independents and 8% of Democrats agree.
Source: An Economist/YouGov poll of 1,500 U.S. adults conducted March 31-April 2 and released Wednesday.
• Kindly follow Jennifer Harper on Twitter @HarperBulletin
The Washington Times Comment Policy
The Washington Times welcomes your comments on Spot.im, our third-party provider. Please read our Comment Policy before commenting.