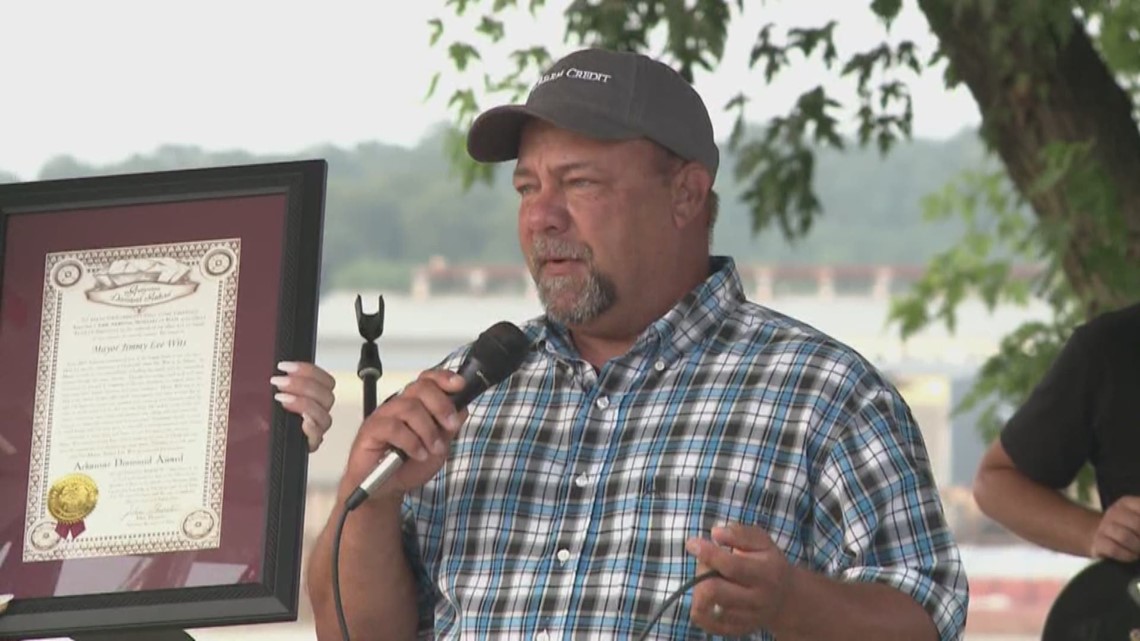 DARDANELLE, Ark — The Mayor of Dardanelle was honored with the Diamond Award for his hard work during the historic Arkansas River flooding.
Dardanelle held its annual Fourth of July celebration at Riverfront Park Thursday.
"It's a celebration of our independence and a celebration because our town didn't flood," Kelly Jett said.
RELATED: Dardanelle community throws Flood Fest to celebrate resilience
One month ago during the historic Arkansas River flooding, Riverfront Park in Dardanelle was completely submerged. The water reached up to 30 feet in the park. People in the city worried the river would flood their homes.
But the water never got into town, and the park can finally be enjoyed again.
"It's great and really exciting to sit out here and feel the cool breeze and look down at the bank and see the grass growing back," Jett said.
Event organizer Kelly Jett said the whole city has Mayor Jimmy Witt to thank. She said he worked around the clock to make sure water did not get into people's homes.
"During the flooding, Jimmy was almost like a superhero. He was out there in the ditches. I saw him many times in his truck, parked out by the bayou, measuring with sticks," she said.
And because of his efforts, Mayor Witt received the Arkansas Diamond Award during the annual Fourth of July celebration. The award given by the Secretary of State's office is one of the highest awards in Arkansas.
"The diamond award itself is a very rare award where you have to have done something particularly amazing," Jett said.
Mayor Witt said receiving the award left him at a loss for words.
"This award represents this town. This is not just about me. This is about Dardanelle," Mayor Jimmy Witt said.
RELATED: Emergency management intern gets hands-on experience during historic flooding
But Jett said it is because of his hard work that the entire town is able to sit and enjoy their Fourth of July.
"I'm lucky enough to serve you people and I truly enjoy it every day," Witt said.
Mayor Jimmy Witt said he is waiting on FEMA for the greenlight to start cleaning up along the river. He said damages are estimated at $630,000. 
The goal is to have the park cleaned up by fall.