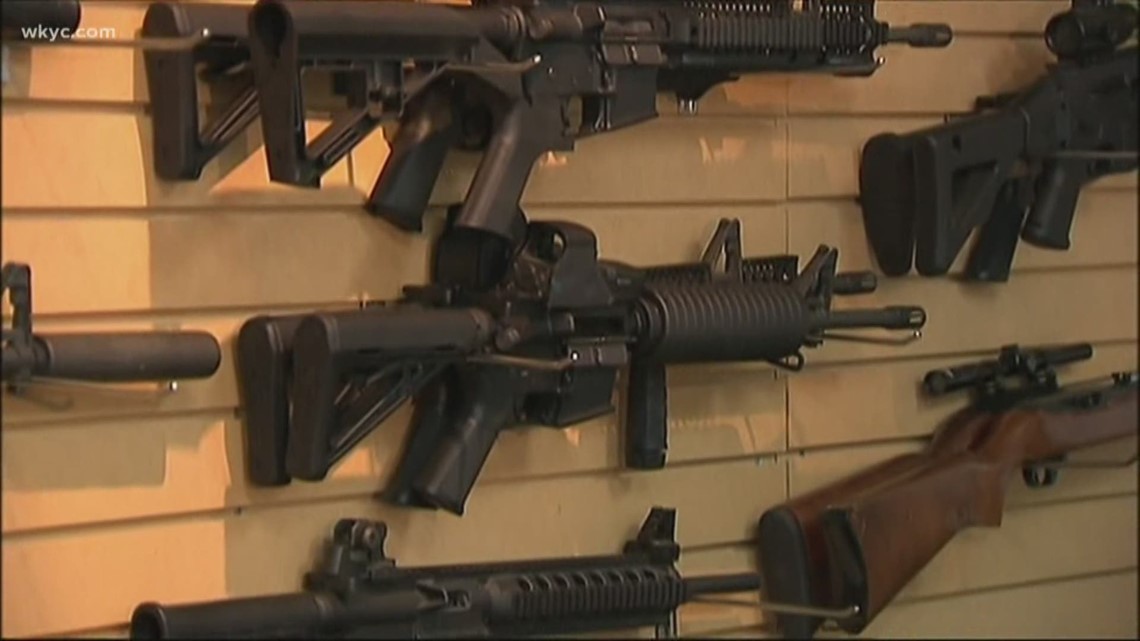 LITTLE ROCK, Ark. — People want to make sure that tragedies like the ones in El Paso and Dayton never happen again. That often leads to contentious debates about the causes of mass murder and possible solutions.
Gun reform and gun rights are usually among the first subjects people talk about after shootings, and Arkansans on both sides of the issue are passionate about what they believe will help.
"It seems like, every day, there's another headline," Kate Fletcher said, "that upsets people, makes people sad, and then gets them fired up to do something about what they're seeing."
More than 200 people packed a church sanctuary Tuesday evening to learn about Mom's Demand Action. It is a national, grassroots organization that claims 4 million members dedicated to what they say are evidence-based gun reforms to reduce all forms of gun violence. Among the reforms the group supports are increased background checks.
RELATED: Arkansans talk 'red flag' laws and how to break mental health stigma regarding violence
"A chief thing that we're trying to get accomplished tonight," Fletcher, the communications team leader for Moms Demand Action in Arkansas, said, "is to get everyone to reach out to the United States Senate via their United States Senator—Senator Cotton, Senator Boozman—and encourage them to take up the legislation that has been passed in the US House of Representatives regarding a background check on every gun sale."
Fletcher said fewer than 10 people would show up to the group's monthly meetings when she joined in 2016, but 50-60 typically attend now. Tuesday's meeting was moved to a bigger venue to accommodate all the people whose interest was sparked by the shootings over the weekend.
"Nationally, we've had over 20,000 people who have never been affiliated with the organization reach out and try to get more information," she added.
While some believe tougher regulation of access to firearms is the correct strategy to reduce gun violence and prevent mass shootings, other Arkansans believe changing the law is not the answer.
"The Second Amendment of the Constitution is enshrined," Nathan House stated, "and we have a right to keep and bear arms, and that right shall not be infringed. It's the people's right to be able to defend themselves."
House, the General Manager of Arkansas Armory, is a concealed-carry instructor and a reserve sheriff's deputy in Lonoke County. He believes having more well-trained gun owners who are able to carry weapons in more places is the best way to reduce gun violence.
RELATED: Conversations in Little Rock's River Market yield perspective after latest mass shootings
"What we hope to do instead is to provide people with some solutions that they can have in order to defend themselves whenever they find themselves in a position where evil comes to their doorstep," he said. "I think that all sensible people would love to find a way in order to prevent tragedy. But I think that the reality is, is that we live in a world where there's a lot of evil and there's a lot of evil people, and that there's no law that we can pass that's going to get rid of people being evil to one another."
House said a second gunman is usually the only thing that stops a mass shooting, whether it be a civilian or a police officer. Critics argue that having more people with guns at the scene of a shooting might make it difficult for officers to distinguish suspects from Good Samaritans.
"I think it is a valid line of reasoning," House stated, "because if there's more guns on a scene, yeah, that's gonna be a little bit complicated. But I would rather deal with that situation than more victims on a scene because there are more people that have been shot while they're waiting on law enforcement to get there."
Fletcher said requiring background checks for all gun sales would prevent people with histories of severe mental illness or domestic violence from getting access to guns and would be a simple way to save lives.
"You know, common-sense gun laws are usually called common sense because over 90 percent of Americans, from all walks of life, agree on the evidence-based solutions that are out there to prevent gun violence," she stated.
But whether they want to stop a shooter faster or limit someone's ability to do harm, Arkansans want to be part of the solution.
"We have seen a continuous progression of more, and more, and more laws that people want to enact," House said. "Well, it hasn't stopped the mass shootings, has it?"
"No one law is going to stop all gun violence," Fletcher noted, "and we don't pretend like that's the case. But there are common-sense solutions that we can put together to reduce it."
H.B. 8 passed the U.S. House of Representatives in February. The Senate is currently on recess until after Labor Day.