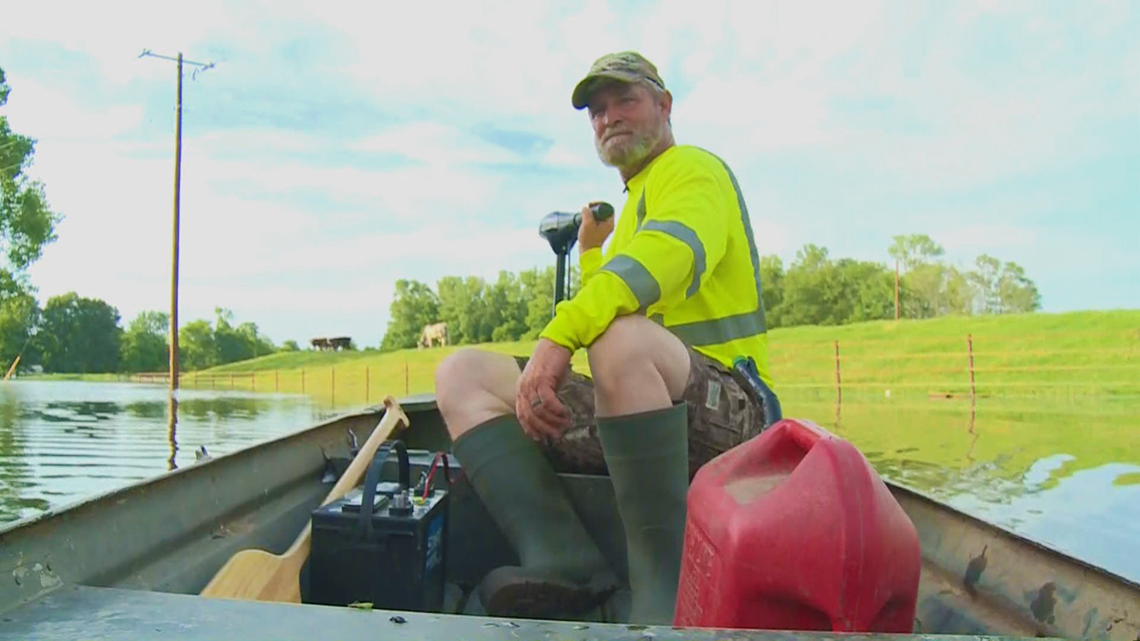 JEFFERSON COUNTY, Ark — An unsung hero in Jefferson County is keeping the phone and internet on for a global company.
Reach for your phone. Even when the water gets high, most have a signal, and you probably don't think about how it got there.
Well in Jefferson County, a man named "King" is storming a moat around the clock to defend a sandbag castle housing treasured technology.
"This is the worst flooding I've ever seen," utility contractor, Stoney King said.
King is on a mission to do whatever it takes to get the phones and the internet going.
Every two hours, 24 hours a day, King takes a small boat to this utility box now surrounded by feet of water that's rising.
"I have to fill up this one and a half inch water pump with gas, and make sure everything is pumping correctly, keeping the water level down so that it don't get in the box and short it out," King said.
He's been doing this kind of work three decades. His customer in Jefferson County is a global grain company that has to keep business rolling even as the Arkansas River rages at the door to this sandbag castle.
Everywhere there are dangers — from drowning to electrocution.
"My dog was with me the other night when I was by myself all night and he kept a water moccasin from crawling in the boat with me," King said.
King stayed stoic through THV11's visit, until one question brought down the "Stoney" exterior.
"As long as that phone keeps working and that internet keeps working, nobody knows that you've even been out here?" THV11's Chris Williams asked.
"That's right, that's right," King said as he began to choke up. "You're right. It's an unseen job that we do," King said. "I mean nobody really everybody likes their internet but they don't understand or appreciate how it got there," King said.
Long after this flood is over, when you reach down for your phone and have a signal, how about giving a little thanks for folks like Stoney King?
"I just hope all this hard work pays off for these people," King said.