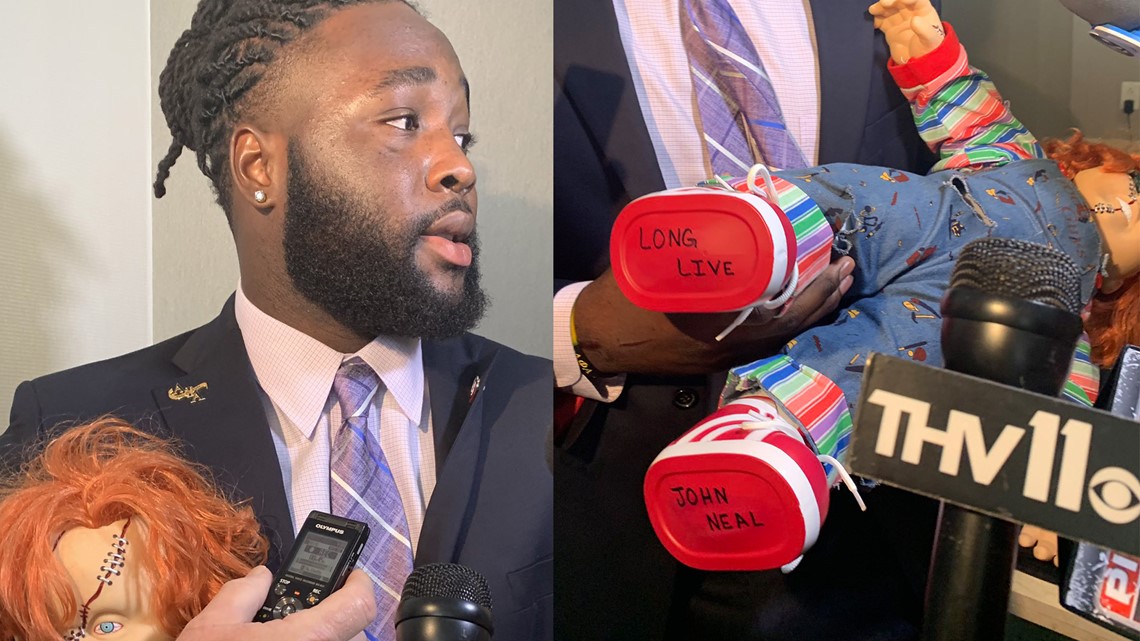 SEC Media Days is usually a look at the upcoming college football season, but Sosa Agim decided to bring along a Chucky doll to honor his cousin who was murdered.
At first glance, the Chucky doll may seem creepy to some but for Agim it's a way to honor his cousin, John Neal, who was murder in 2018 in Texas.
According to the Texarkana Gazette, Neal was found in a four-door Mitsubishi with gunshot wounds. There was minor fire damage inside the vehicle. Detectives say Neal was killed somewhere else.
"He was never able to make it to a game, so now he's gonna be able to make it to every game this year," Agim said.
Agim recently got the Chucky doll and takes him everywhere with him. From practice to driving in the car, Chucky does not leave Agim's side.
RELATED: Opinion: The Razorbacks will open the season 4-0
"For a while I was hurt," Agim said of Neal's death. "And then I seen the Chucky doll and I was like, you know what I'm saying, just kinda brought some thoughts to me and later on I got the Chucky doll and then on the [feet] I wrote 'Long Live John Neal.'"
"John was like, he was like one of my rocks. So, when they took him it was like they took a part of me as well," Agim said. "But now I'm able to keep that part of me on Earth."
There wasn't a particular reason why he chose Chucky to honor Neal other than the fact that Agim liked Chucky.
Agim said that his cousin's murder is still unsolved.
If you have any information on John Neal's death you are asked to contact Texarkana, Texas Police Department at 903-798-3116 or Crime Stoppers at 903-793-STOP.