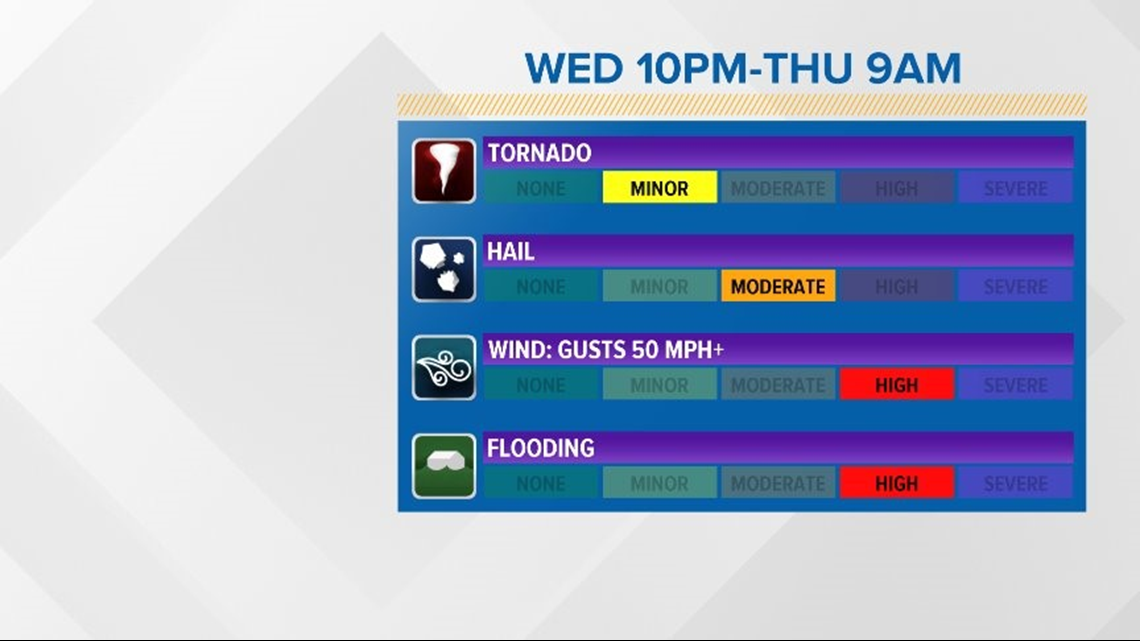 ARKANSAS, USA — Tonight's thunderstorms will begin to push into the state (south and west) as early as 9 p.m. bringing mainly very heavy rain, some damaging wind and some hail. Currently, the tornado threat is low. Storms will then spread and affect most of southern Arkansas overnight.
Here's your time line on what and when to expect for central Arkansas:
12 a.m. to 2 a.m. Storms will be moving into central Arkansas. These could produce strong, damaging wind gusts and marginal hail. Heavy rain and lightning are possible, as well.
3 a.m. to 6 a.m. Storms will be ongoing, but the severe threat shifts to more of a heavy rain event with flash flooding possible into the early morning hours. One to three inches of rain can be expected overnight.
7 a.m. to 10 a.m. Storms will begin to weaken temporarily with a break expected by noon.
2 p.m. to 5 p.m. Storms will re-fire along the cold front that will be moving through. At this time, widespread severe weather is NOT expected, but brief afternoon rain/storms are possible.
After 6 p.m. Expect slow clearing skies, cooler temps and calmer weather as we head into Friday, Saturday and Sunday.