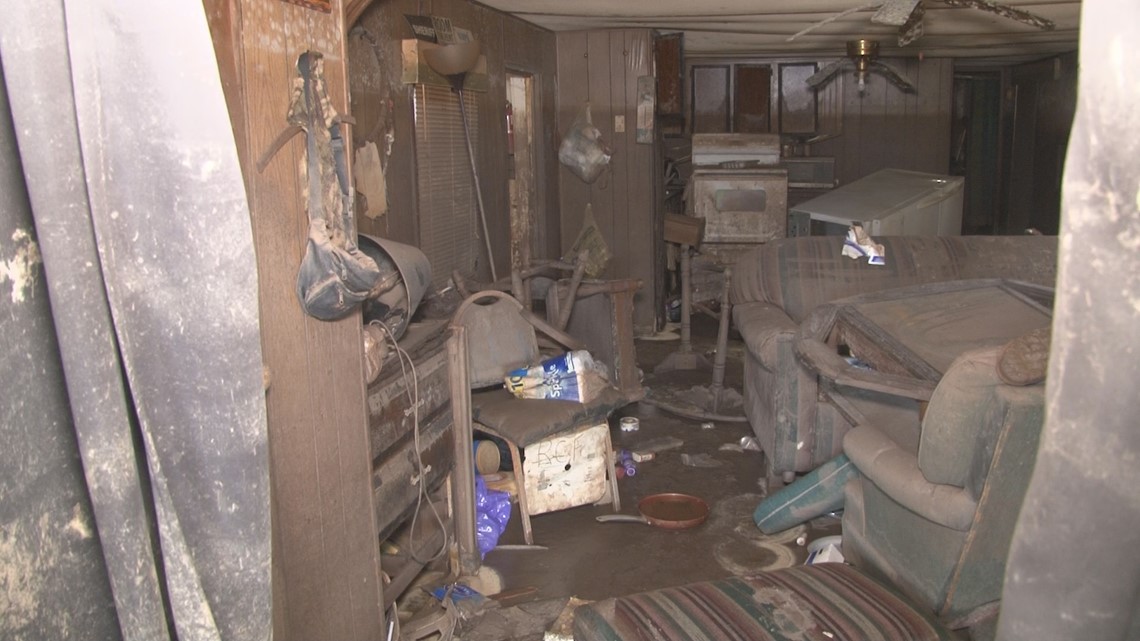 WRIGHT, Ark. — For most Arkansans, the flooding of the Arkansas River is history. But for many people, the pain of the rising water will last well into the future.
A month after the river's crest, some homeowners are still seeking help, while others find creative paths to "normal."
Jim Dixon evacuated from his home in Wright and recalls returning on a Thursday to see the damage.
"I was actually shocked," he recalled. "I never realized that the water would've got up this high."
Jim Dixon said his trailer had flooded four times in the 14 years he's had it on the bank of Brodie Bend. The fourth will be the last, because he will not rebuild.
RELATED: Filing period for disaster unemployment assistance closes Friday, July 12th for 8 counties
"After seeing what I was facing, absolutely not," he stated. "It looked like someone tossed a hand grenade inside my place, the way the water had floated all my furniture, destroyed my TV sets, appliances. It looked like the whole place had filled up with water and just churned everything."
Dixon had several feet of water inside his home, which was less than many of his neighbors. A drive down his street shows homes ripped apart from their additions, sheds flipped over, high-water lines above doors, and debris lining the street, waiting to be hauled away.
Dixon said a steady stream of strangers have come through to see what the flood wrought. "Down here, I've counted more vehicles come in and out of here in the last week than I've ever seen in the entire time that I've been here," he mentioned. "You don't know who's coming in to sight-see or who's coming in to see what they may be able to steal."
Recovering what he lost was made more difficult by the fact he could not get flood insurance, since he lives inside the levee.
"I had personal property insurance and I was denied any claim on the personal property," he explained, "because it was due to a flood."
Dixon applied to FEMA for assistance but said he is pessimistic about his chances because his next-door neighbor had already been declined.
"They could come through, they could leave you penniless," he stated. "I just hope to recoup some money for my personal property that I lost."
FEMA has had lots of applications to process in the weeks since President Donald Trump declared a federal disaster.
"Today, it looks like we've got a full house," Earl Armstrong said.
Armstrong, a spokesman for FEMA, watched people come and go from FEMA's Disaster Recovery Center in North Little Rock, one of several around the state. People can come meet with agents, learn about grants and Small Business Administration loans, and meet with Arkansas Insurance Department experts.
"Basically," Armstrong explained, "'what do I do now? I've submitted my, I've registered and I'm waiting for the inspector, now what? How's the inspector going to get in touch with me? What do I do with this SBA packet?' And we've got answers."
Armstrong advised homeowners to take photos of the damage, then safely clean up as much as they can. He also recommended that people file claims with their insurance companies before beginning the FEMA application process, "because the insurance is likely to pay them more than what FEMA will pay, because we're not able to make everybody whole," he explained. "The average maximum grant from FEMA is somewhere between $4,000-6,000."
Armstrong said some people can get approved for benefits in a couple days; others in a couple weeks. And the Disaster Recovery Centers will stay open as long as people have questions.
"All disasters are different," he mentioned, "but once we open up a Disaster Recovery Center, we will be in that location until the need goes away. As long as there are people coming in, we'll be here."
Dixon will still be in Wright, the shock having subsided just like the water.
"The feeling of disgust would more describe it," he said of looking at the moldy trailer that was his home, where all color has been replaced by brown. "You having to wade through three or four inches of mud inside your house, and, I mean, it's so slippery it's dangerous to even try and do a walkthrough."
RELATED: FEMA application denials cause uncertainty for flood victims
That house is not his house anymore. He bought a camper so that he can easily pack up the next time the river rises, and some of his neighbors have told him they plan to do the same.
"I've not talked to anyone at this point that's going to actually rebuild a structure here," he stated.
But this spot on the river's bank was part of his retirement plan after several decades in law enforcement around Pulaski County. Dixon will spend the next couple months removing the debris of his former life, thinking more of the future than the struggle.
"Just knowing I've got a big job ahead of me," he said of the challenge. "I'm not a young man anymore, so I have to kind of do things at my own pace. So, it'll take a while, but I'll get there."
So far, FEMA has approved more than $7 million in assistance for more than 780 people who were affected by the flooding of the Arkansas River.
"We are working as fast as we can," Armstrong said. "Please be patient with us. And be sure and take care of yourself, because we know this is a long process. You're cleaning out your house in hot weather. Be sure and just take care of yourself and your family while you're doing it."