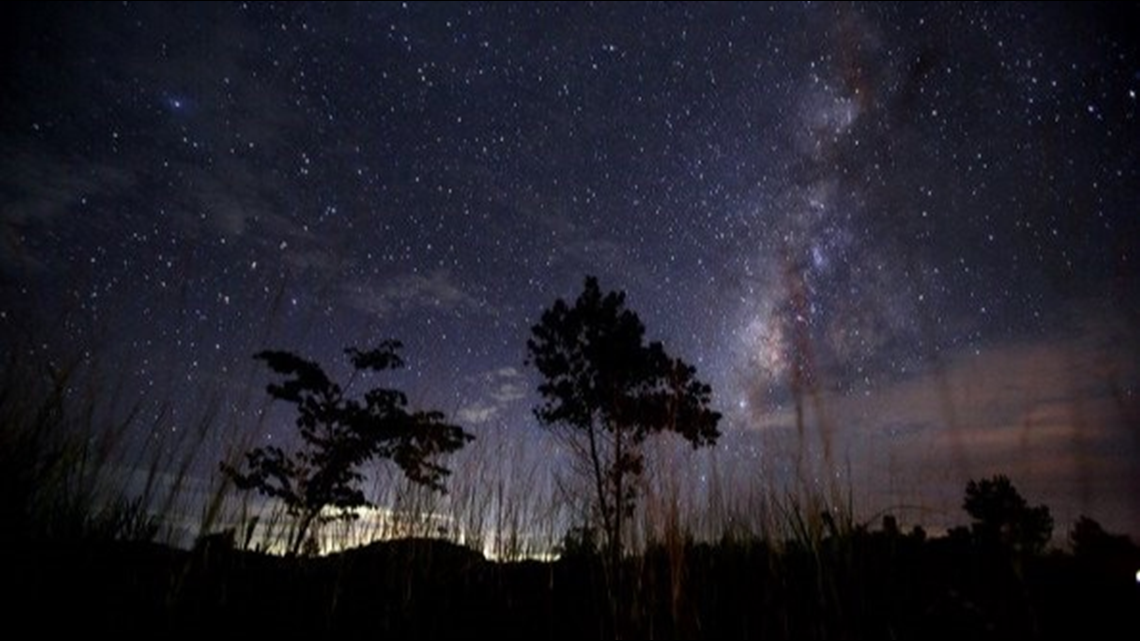 LITTLE ROCK, Ark. (KTHV) – The Perseid Meteor shower peaks today and tomorrow!
This meteor shower comes around every year, but this year is special because there will be little to no moonlight (approaching a new moon) during the peak on August 11 through the 13.
The lack of moonlight allows the naked eye to easily see the meteors. At this time, meteors can be seen at a rate of 50 to 75 per hour in rural areas! You don't need a telescope, just head outdoors away from light pollution and look up.
Remember that it can take your eyes fifteen to twenty minutes to adjust to the darkness, so be patient!
Fun Facts: Perseid meteor shower happens every year around the same time as Earth passes through debris from the parent object comet 109P/Swift -Turtle. Little pieces of the comet enter the Earth's atmosphere at speeds of over 37 miles per second (133,200 mph). Don't worry, no chance of that debris hitting the Earth's surface. This particular meteor shower has been observed for over 2,000 years and some call it the "tears of St. Lawrence" since the occurrence shares a date with the saint's martyrdom.
What if there is bad weather? As of now, it looks like it could be cloudy. This doesn't mean you will completely miss the meteor shower. The Perseids can be seen from June 13 through August 26.
Need a viewing party? Check these out!
10:00 p.m. – Midnight
Admission: Free
The dark night skies of Woolly Hollow State Park are the backdrop for one of the most spectacular meteor showers of the year at its peak: 90 to 100 meteors each hour. Join us on the beach for a beautiful vista as the shooting stars fly into view. Bring lawn chairs or a blanket, insect repellent, and water.
PERSEIDS METEOR SHOWER KAYAKING
Marina Boat Ramp
7:30 p.m. – 9:45 p.m.
Adult Admission: $15.00
Children ages 6-12: $10.00
It's time for the annual Perseids meteor shower, known for the best "shooting stars" of the season! What better way to enjoy this celestial show than from the comforts of a kayak afloat the cool, calm waters of DeGray Lake? Join us for a truly unique kayaking experience where we will paddle out to a nearby island with a sandy beach to enjoy some unspoiled views of the overhead action. Flat-water kayaks, paddles, and life jackets are provided, and no previous paddling experience is necessary. A park interpreter will demonstrate the basics of kayaking and answer your nature questions along the way. Participants must be at least 10 years old to paddle a boat solo. There is limited space available for children ages 6-9 to ride with an adult. Reservations are required and are taken at the lodge front desk beginning noon the day before, (501) 865-5850. Wear clothes and shoes that can get wet, and bring a water bottle and beach towel for stargazing! Please arrive 10-15 minutes early with your receipt or your spot may be given to someone on the waiting list.
8:30 p.m. – 9:30 p.m.
Adults: $10.00
Children ages 6-12: $5.00
Children under 6: Free
A golf course is for golf during the day, but at night it is transformed into a rich wildlife preserve! We'll take a caravan of golf carts out to search for nocturnal animals. Not only that, with this being one of the peak evenings of the annual Perseids meteor shower, we are likely to be treated to some magnificent "shooting star" sightings as well! Space is limited and reservations are required. Reservations can be made beginning noon the day before at the lodge front desk, (501) 865-5851. Stop by the front desk to pay before heading over to the pro shop with your receipt. Two persons per cart: must be 18 or over to drive, any age can ride. Be sure to bring a flashlight!
Jolly Rogers Marina
9:00 p.m. – 10:30 p.m.
Admission: $15 adults, $8 children ages 6-12
View shooting stars from the middle of Lake Maumelle! Join a park interpreter on this guided cruise to learn about stars and constellations then watch a slice of the annual Perseid meteor shower. Advance payment and registration required.
Cameron Bluff Overlook
10:00 p.m. – 10:45 p.m.
Admission: Free
A few times a year meteor showers grace the night skies providing a light show. Stargaze with a park interpreter as you watch the Perseid meteor shower which often provides a meteor a minute. Feel free to bring binoculars, telescopes, blankets, or lawn chairs.