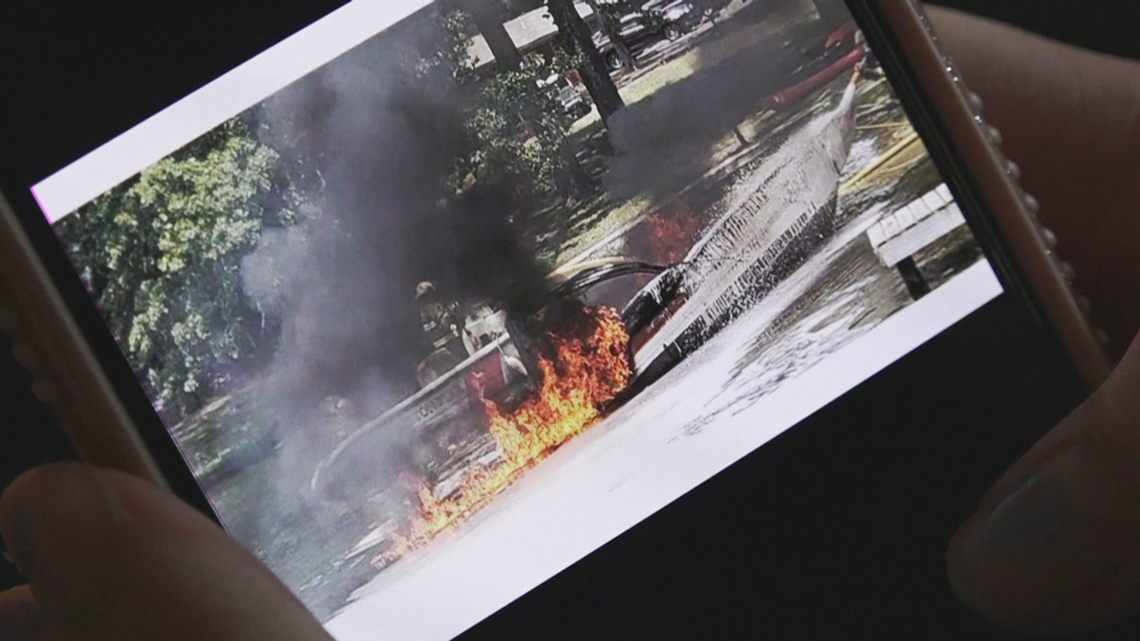 HOT SPRINGS, Ark. — Boating out on one of Arkansas' lakes is all fun and games until something tragic happens.
Tragedy became one Bauxite woman's, reality on June 22 when the boat she stepped in exploded.
"It just blew up," said Ashley Drysdale. "It rippled the water. You could feel the explosion in the water."
RELATED: 5-year-old Jenson wants you to stay safe after his encounter with fireworks
Drysdale is miraculously recovering and healing from the freak accident that happened on Lake Catherine.
The boat caught fire while making its way off the dock, sending all 10 people inside, into the water, including several kids.
"We all got burned," she said. "Me and my dad got the worst of it."
Drysdale's two babies made it out safely with no injuries, but for the mom herself, she ended up in Arkansas Children's Hospital's burn unit.
She got second degree burns covering 30% of her body. Her father received third degree burns on 30% of his body; ultimately needing skin graft surgery.
"I have them all the way up both legs," said Drysdale. I have ugly hands, I've got singed hair. I have no eyelashes."
It's unclear what caused the boat's explosion exactly, but Drysdale's family believes fumes may have leaked into the boat's hull, leaving them nowhere to go.
"Just be mindful," she said.
Drysdale has no plans to spend Fourth of July on the water, but she's pleading to others who are headed out to the lake this weekend.
"Just triple check, make sure everything is working correctly," she said. Six people in total were injured on the boat.
RELATED: Is it legal to drink while boating in Arkansas? | VERIFY
Drysdale said her family lost about $30,000 worth of gear and equipment.
A GoFundMe account is set up to help support the Drysdale family during recovery.