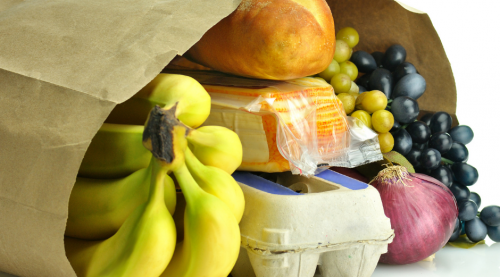 From around the state, more than 100 advocates, business leaders, community members and foundation directors have signed a letter urging their fellow Arkansans to do their part in making a hunger-free Arkansas.
The letter highlights that September is Hunger Action Month, and nearly half a million Arkansans face hunger. The co-signors write that "We all have a role to play to make Arkansas hunger-free, from supporting and advocating for programs to volunteering at a local food pantry or food bank, and more."
The broad and diverse group encouraging statewide action include:
Jonathan Adams, Business Development Officer, Nabholz Construction Company
Greg Adams, Member, Little Rock School District Board of Education
Patricia Ashanti, Founder/CEO, Delta Circles, Inc.
Janet Rider Babbitt, Executive Director, Columbia County Community Foundation
Jay Barth, Chief Education Officer, City of Little Rock
Sheri and Woody Bassett
Hank Bates
Terry Bearden, Executive Director, Arkansas Community Action Agencies Association
Jen and James Beck
Raymond Burns, President/CEO, Rogers-Lowell Area Chamber of Commerce
Jenny and Lucas Campbell
Jim Cargill, President of Arvest Bank in Central, Northeast & Southwest Arkansas
Lynn and Joel Carver
Steve Clark, President and CEO, Chamber Fayetteville
Ed Clifford, President/CEO, The Jones Center
Shannon Collier-Tenison
Roger Collins
Nancy and Andy Cozart
Ryan Davis
Ronnie Dedman, President, AT&T Arkansas
Xochitl Delgado Solorzano, Assistant Dean for Diversity Equity and Inclusion and Director of the Path Program, University of Arkansas Honors College
Jody Dilday, Vice President, Arkansas Community Foundation
Marcy Doderer, FACHE, President and CEO, Arkansas Children's
Angela Duran, Executive Director, Excel by Eight
Kent Eikenberry, President/CEO, Northwest Arkansas Food Bank
Delia Anderson Farmer, Executive Director, EOA of Washington County
Sarah Fowler, Executive Director, United Way of the Ouachitas
Rev. David C.  Freeman, First United Methodist Church, Little Rock
Hershey Garner, J.D., M.D.
Julie Gehrki, Vice President, Walmart.org
Janie Ginocchio, Director of Public Policy and Advocacy, Southern Bancorp Community Partners
Gina Gomez, Executive Director, El Centro Hispano
Anna Beth Gorman, Executive Director, Women's Foundation of Arkansas
Rejena S. Grotjohn, Assistant Dean for Student Affairs and Diversity Initiatives, UA Little Rock William H. Bowen School of Law
Susan and Orville Hall
Martie Hamilton, System Critical
Scott Hamilton, CEO/President, Urban League of the State of Arkansas
Jennifer Hardin, Market President, The Bank of Fayetteville
Vicki Hatter, Little Rock School District Board of Education
Joshua Hays, City Manager, Pepsi Food for Good
Nanette Heard, United Way of Northeast Arkansas
Ann and Morriss Henry
Dr. Mike Hernandez, Executive Director, Arkansas Association of Educational Administrators
Gabe Holmstrom, Executive Director, Downtown Little Rock Partnership
Rich Huddleston, Executive Director, Arkansas Advocates for Children and Families
Interfaith Arkansas
Pastor Haley Jones, First United Methodist Church, Little Rock
Mayor Lioneld Jordan, City of Fayetteville
Christie Jordan, Food Bank of Northeast Arkansas
Bill Kopsky, Executive Director, Arkansas Public Policy Panel
Melisa Laelan, Founder/Executive Coordinator, Arkansas Coalition of Marshallese
Heather Larkin, President/CEO, Arkansas Community Foundation
Paul Lazenby, Executive Director, Arkansas Early Childhood Association
Tom Masseau, Disability Rights Arkansas
Mayor George McGill, City of Fort Smith
Tracey-Ann Nelson, Executive Director, Arkansas Education Association
Steve Nipper, Magnolia City Councilman
Pam and David Parks
Lynn Pharr, CEO, Heart of Arkansas United Way
Michael Poore, Little Rock School District Superintendent
Pamm and Paul Prebil
Kathy Trotter and Charley Reese
Sheldon Riklon, M.D.
Rhonda Sanders, CEO, Arkansas Foodbank
Herb Sanderson, State Director, AARP Arkansas
William A. Schwab Ph.D., University Professor, University of Arkansas
Mayor Frank Scott Jr., City of Little Rock
Kymara Seals, Policy Director, Citizens First Congress
Cathy and Denton Seilhan
Marti Sharkey, City Health Officer, City of Fayetteville
Elizabeth S. Small, Director of Business Networking/Real Estate Instructor, UA Little Rock
Ora Stevens
Anna Strong, Executive Director, Arkansas Chapter, American Academy of Pediatrics
Aaron Strong, M.D.
Stacey Sturner
Patty Henson Sullivan, Executive Director, Ozark Literacy Council
Susan Sullivan, M.D., FAAP
Ally Thomlinson, Director, Community of Champions
Michael Thornton
Pastor Dwight Townsend Sr.
Danyelle Walker
Kathy Webb, CEO, Arkansas Hunger Relief Alliance
Jeff Webster, President/CEO, Excellerate Foundation
Troy Wells, President and Chief Executive Officer, Baptist Health
Sherece Y. West-Scantlebury, CEO, The Winthrop Rockefeller Foundation
Gary Wheeler, M.D.
Candace Williams, Executive Director, Rural Community Alliance
Darrin Williams, CEO, Southern Bancorp, Inc.
Will Wood, 83rd President of the Rotary Club of Magnolia
Wright Lindsey Jennings
Camille Coker Wrinkle, Executive Director, Harvest Regional Food Bank
Jasmine Zandi, Central Arkansas Library System & Be Mighty Little Rock
Download the PDF of the letter.