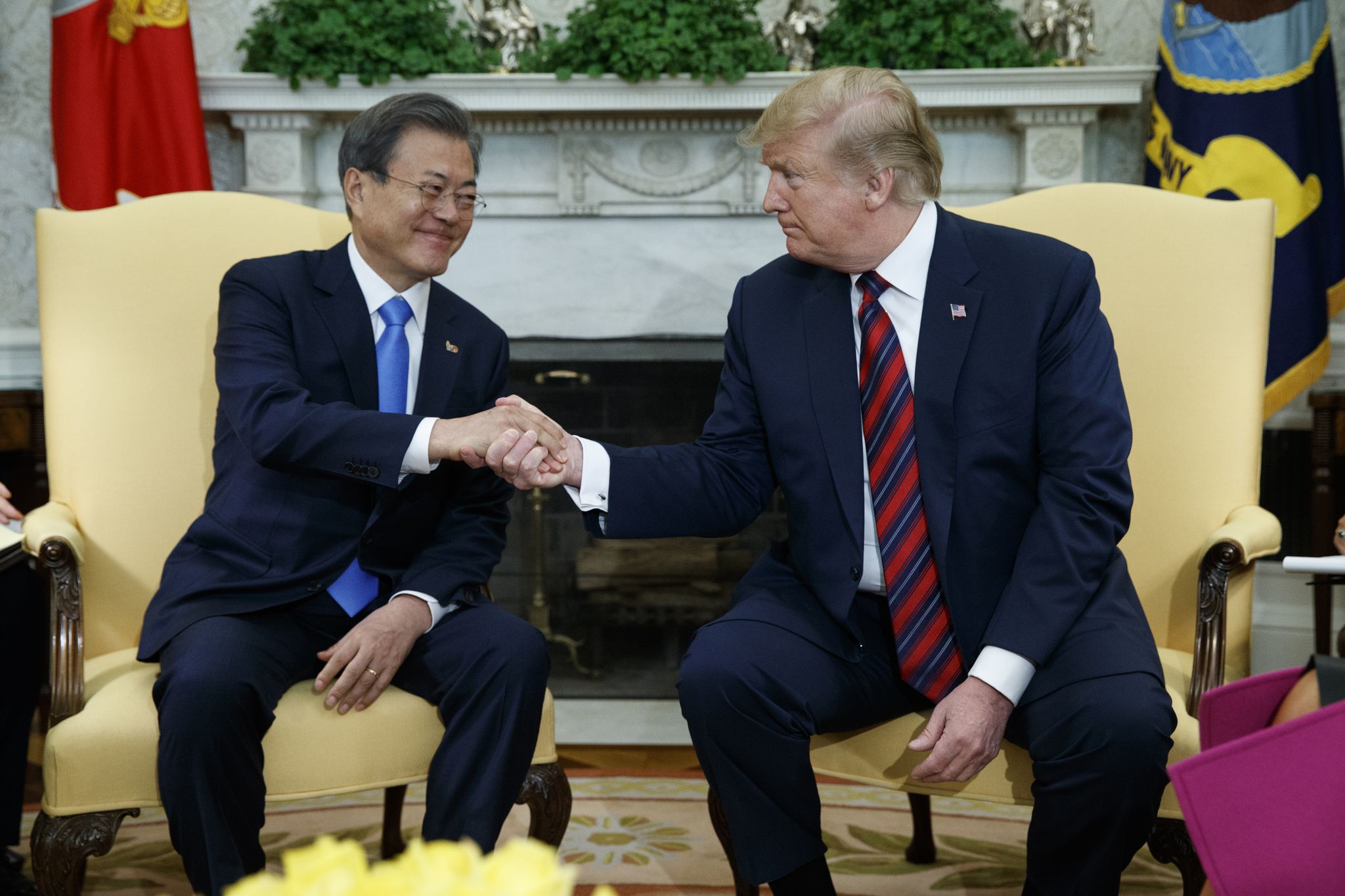 Hoping to revive stalled talks on eliminating North Korea's nuclear weapons, President Trump told South Korea's president Thursday that he won't lift "fair" sanctions on Pyongyang but is willing to consider "smaller deals" such as humanitarian aid for the communist North.
In his first face-to-face meeting with South Korea's Moon Jae-in since a failed denuclearization summit in late February, Mr. Trump said he is still aiming for the "big deal" of persuading North Korea's Kim Jong-un to abandon his weapons programs. Both men said they will pursue more meetings with Mr. Kim.
Mr. Trump said he is discussing "certain humanitarian things" for North Korea, such as food aid, to put the fragile negotiations back on track. He and Mr. Kim left their second summit in Hanoi, Vietnam, without any agreement.
"There are various smaller deals that maybe could happen," Mr. Trump told reporters at the White House. "You could work out, step-by-step, pieces. But at this moment, we're talking about the big deal. The big deal is we have to get rid of the nuclear weapons."
The president seemed to reject Mr. Moon's recent clamoring for easing sanctions and providing North Korea with an "early harvest" of economic relief. Mr. Trump noted that he rescinded sanctions announced by the Treasury Department in late March, although the administration later said the president stopped a round of economic penalties rather than withdrawing new ones.
"We want sanctions to remain in place," Mr. Trump said. "I had the option of significantly increasing them. I didn't want to do that because of my relationship with Kim Jong-un. But I think that sanctions are, right now, at a level that's a fair level."
A United Nations report last month found that North Korea is using sophisticated techniques to evade U.N. sanctions and is importing crude oil, hacking into foreign banks, increasing coal exports and selling weapons.
Asked whether he supports Mr. Moon's efforts to establish inter-Korean commerce, Mr. Trump said, "This isn't the right time."
"When the right deal is made, and when the nuclear weapons are gone, I just think that North Korea has potential as great as anything I've ever seen in terms of potential," he said.
Mr. Moon said his job is to "maintain the momentum of dialogue" and demonstrate to the rest of the world that a third U.S.-North Korea summit "will be held in the near future."
"I believe that the Hanoi summit … was not a source of disappointment, but it is actually the part of a bigger process that will lead us to a bigger agreement," Mr. Moon said through an interpreter. "In terms of North Korean nuclear problem, all Korean people have now — now we believe that you will be able to solve this problem through a dialogue."
Asked whether he hopes to receive a "road map" from North Korea to complete denuclearization, Mr. Trump said it was "a very prime topic for our meeting today."
"We hope that's going to happen," said Mr. Trump, adding that a third summit "could happen."
"I enjoy the summits," Mr. Trump said. "I enjoy being with the chairman. I think it's been very productive. It's a step by step. It's not going to go fast. If it goes fast, it's not going to be the proper deal."
The president wouldn't say whether he had any communication with Mr. Kim in recent weeks.
A liberal who supports detente with the North, Mr. Moon said Mr. Trump is responsible for "a dramatic turnaround regarding the political situation on the Korean Peninsula."
"Previously, because of the repeated nuclear and missile tests from North Korea, we saw that the military tension at the time had been at its greatest, and we were in a very precarious situation," Mr. Moon told Mr. Trump in the Oval Office. "However, since you met Chairman Kim and you initiated personal diplomacy with him, we saw the dramatic, significant reduction of military tension on the Korean Peninsula, and now peace has prevailed."
Although North Korea has agreed to stop testing missiles and nuclear devices, Mr. Kim issued a threat over sanctions.
"We must deal a serious blow to the hostile forces who are mistakenly determined to bring us to our knees with sanctions by advancing the socialist construction to a high level of self-reliance that fits our circumstances and state, based on our own power, technology and resources," Mr. Kim said Wednesday, according to the state news agency KCNA. He didn't mention the U.S. by name.
U.S. negotiators said in December that they might be willing to provide food shipments to impoverished North Korea. "You have to be OK with that," Mr. Trump said Thursday.
"The relationship [with North Korea] is a much different relationship than it was two years ago," Mr. Trump said, "and certainly [than] during the Obama administration, where nuclear weapons were being tested often, where rockets and missiles were being sent up, in many cases, over Japan. And we are in a much different situation right now."
Mr. Moon's visit to Washington was urgent, but he stayed in the nation's capital for only about 24 hours. Mr. Trump and first lady Melania Trump met Mr. Moon and his wife, Kim Jung-sook, at the South Portico, a greeting reserved for honored guests.
Mr. Moon invited the president to visit Seoul "in the near future," South Korea's government said.
Mr. Trump is expected to travel to Japan in May for a ceremony marking the changing of the emperor, and he is tentatively scheduled to attend the Group of 20 summit in Osaka, Japan, in June.
Mr. Trump held his first summit with Mr. Kim in Singapore in June after months of increasingly hostile rhetoric on both sides. Mr. Trump had derisively called his counterpart "Little Rocket Man" and threatened to rain "fire and fury" on North Korea if it ever threatened the U.S. or its allies.
The president now says he deliberately used aggressive language and a program of "maximum pressure," including sanctions and diplomatic efforts, to persuade Mr. Kim to negotiate.
The Washington Times Comment Policy
The Washington Times welcomes your comments on Spot.im, our third-party provider. Please read our Comment Policy before commenting.